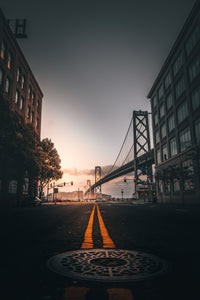 7 Reasons to Take a Cannabis Tour in the Bay Area
The Bay Area's got it all — breathtaking views, great eats, and super dank bud. We're thinking if you haven't made it out to the Bay yet, it's high time you plan a visit. Seriously. I mean, the Bay's great on it's own, but it's even better when you elevate your senses with Emerald Farm Tours. Need more convincing? Here's 7 reasons why you should come to the Bay and smoke up with us. 
Reason #1: The Golden Gate Bridge 
Okay, I must admit the Bay Bridge is pretty beautiful too, (see photo no. 1) but there's something so striking about staring at The Golden Gate especially after rolling out of a tour. Fun fact: did you know the bridge is actually a color known as International Orange? No joke. Come see for yourself!
Reason #2: Think you know about clouds? Think again.
During the summer months, The Bay is known for its stunning views of fog rolling in. It's incredible to see. Looks almost like Hippie Hill on 4/20. Did we mention we're having an exclusive cannabis crawl to the legendary hill that day? Check Reason #7 for the deets.
Reason #3: A music scene like no other
You can catch all kinds of waves in the Bay, including sensational sound waves from the seemingly endless amount of talented musicians around the bay. From the SFJazz Collective to Oakland's experimental music scene, the vibe is perfect for your post-tour sesh.
Reason #4: The Food
San Francisco has been considered one of the best food cities in America. Where's a better place to get the munchies than when you're surrounded by some of the tastiest food in the country?
Reason #5: And that brings me to number 5
A staple to the Bay area is good ol' Napa Valley. We've all heard of wine pairings, but weed and wine pairings are a match like no other. Now that you know The Bay has fantastic food, wine, and weed, I can tell you're thinking about planning your tour.
Reason #6: Art, Art, Art Galore!
I could go on and on about how creative the Bay is, but trust me on this: our art scene will complement your cannabis tour like nothing else. Whether it's the SFMOMA, Yerba Buena Center for the Arts, or our local street vendors-- you'll find what you're looking for and you won't be disappointed.
Reason #7: Last but not least, there's Golden Gate Park
Remember that Hippie Hill reference from earlier? That's where you'll find this magical spot. Since the 60's, the hill's attracted folks from Janice Joplin to George Harrison. After a day of taking in the sights, where else would be a better place to enjoy some more of that local greenery than here?
You could also join us for Jimi Devine's 4/20 Cup Crawl, where we'll be sampling incredible bud and voting on who should hold the title for The Golden City's best weed. We're going to be blazing all day and rolling up to the hill just in time for 4:20. 
The Bay is a phenomenal place, and there's a ton to take in. At Emerald Farm Tours, we appreciate being part of the scene, and we love meeting people from far and wide to share the history of the Bay and how we got here today. So, what are you waiting for? Come on down and take a tour (and a rip) with us. The Bay can't wait to have you!
---