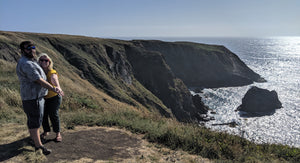 TASTE, SIP & SMOKE™: MENDOCINO COUNTY HARVEST TOUR
Welcome to the official Emerald Farm Tours blog! Here you'll find information about new tour offerings, limited events, and cannabis-centric content. Another great way to stay in the know is to head back to our homepage and subscribe to our newsletter, which also gives you access to limited-time promotions. 
For our premiere blog post, Emerald Farm Tours is thrilled to announce what we believe to be a first-of-its-kind touring experience, backed by the Mendocino County Tourism Commission to celebrate the county's official adoption of cannabis tourism. We are thrilled to be a part of this inaugural opportunity; Mendocino County and Visit Mendocino are the first county and the first tourism board to adopt such an effort post-legalization in the United States. 
Check out the post below to find out more, and thanks for reading.
Announcing Taste, Sip & Smoke™: Mendocino County Harvest Tour —  A Mouth-Watering Harvest Celebration in America's "Budbasket"
Join Emerald Farm Tours November 1st-3rd for Taste, Sip & Smoke™: Mendocino County Harvest Tour, offered in collaboration with and sponsored by Visit Mendocino, Flow Kana, Cannaisseur Series, and the Mushroom Feast Mendocino Festival.  Already have plans that weekend? You may want to cancel once you hear what's on this well-seasoned agenda. 
To summarize: A delectable, local experience unlike any other to date. Consider it a weekend-long harvest celebration of all that is delicious and lovingly raised in Mendocino County — one where you can interact directly with the growers, chefs and industry specialists as you go along. Mendocino is known for its gastronomy, viniculture and cannaculture as well as award-winning wineries, craft breweries and cuisine. So book now, tuck in your napkin and bring a pair of loose-fitting pants. You're going to need them.
Below is a rundown of the tastiest highlights and details; find the full scrumptious weekend itinerary here.
On Friday the tour leaves from a local, iconic San Francisco dispensary, and straight to the Solar Living Center for a meet-and-greet with an entire community of legendary cannabis farmers at a beautiful eco-oasis and education center (that also has a world-class dispensary on campus). Be prepared for a farm-to-table reception dinner like none you've had before, prepared by Cannaisseur Series founder, Chef Coreen Carroll. 
Begin the evening with signature cocktails, appetizers and live music. Next, enjoy a delicious four-course meal paired with locally grown cannabis (on behalf of Flow Kana) and learn about the farm and the producers. Mendocino County welcomes you to night one with a gentle food coma and comfortable, chill lodgings at Yokayo Ranch.
Saturday is a build-your-own-adventure day. Want to take it easy? Feel free to opt in or out to as many activities as desired. Options include exploring a mighty redwood grove, sampling beers at the Craft Brew Fest, and learning how cannabis is grown, processed and distributed for the legal adult-use market. Celebrate your final evening at the picturesque Yokayo Ranch with a catered sunset dinner.
Sunday features a morning hike before a local olive oil tasting hosted by the University of California - Hopland Extension. In case you were worried, you'll be getting back to San Francisco in time for 4:20, reminiscing all the way about the delectable weekend escape you experienced.
You'll find details such as what's included in the ticket price, accommodation information, foodstuff (yes, there are indeed snacks on the bus) and even more here.
Still have questions? Don't hesitate to reach out to Emerald Farm Tours via email (booking@emeraldfarmtours.com) or toll-free call (1-866-216-9970). Our veteran cannabis guides are always more than happy to answer any and all questions or concerns you may have. We look forward to seeing you there!
---