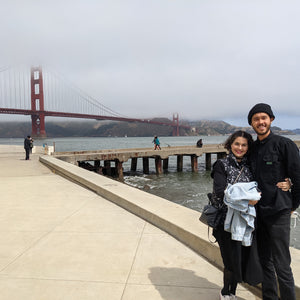 4 Tips for Planning a Cannabis-Friendly Trip
Cannabis reform is becoming increasingly popular around the world, leading to a tourism boom in countries with recreational markets that have been legally enacted. Likewise, a trip to many of these travel destinations can improve your knowledge and understanding of the cannabis plant, including its many therapeutic benefits.
However, there are some things to consider before you book your flight and pack your luggage. Check out these four must-read travel tips when planning a cannabis vacation. 
1. Pick a Cannabis-Friendly Destination
Do your research before picking a destination for your next cannabis vacation. Certain countries have different laws and customs when it comes to cannabis legality. Fortunately, there are many destinations across the world where cannabis is legal, including:
Amsterdam, Netherlands

Alaska, USA

California, USA

Canada

Christiania, Denmark

Negril, Jamaica

Oregon, USA

Washington, USA
Choosing a cannabis-friendly destination will help you to learn more about the local culture. Depending on where you travel, there will likely be plenty of dispensaries to choose from, like the several dispensary locations of Attis Trading Co. in the Portland, Oregon area. Plus, there may even be cannabis-centric tourist attractions, like the Hash, Marihuana & Hemp Museum in Amsterdam, Netherlands. Best of all, you won't need to worry about prohibition when rolling a cannabis cigarette, using a CBD vape, or consuming edibles.
2. Understand State Laws Before Travel
While you are heading to and/or from a cannabis-friendly destination, there will likely be various travel restrictions to follow to avoid legal repercussions. If you are traveling to a different state within the United States for a 420-friendly trip, learn about that state's specific laws before embarking on the journey.
When flying, don't try to pack cannabis into your luggage because the airport is a deferral jurisdiction territory. If traveling by car, train, bike, or bus, you must also avoid carrying cannabis across state lines. Even if you are traveling from Oregon to Washington — where both states have legalized recreational cannabis markets — carrying cannabis across different state lines is federally illegal in the United States.
If you're a cannaseur, be sure to double-check your suitcase for a rogue preroll or other products you could have forgotten about in your clothing pockets and anywhere else. You don't want to get caught accidentally carrying cannabis!
3. Don't Overlook What You Can Travel With
Although there are restrictions on carrying cannabis products within the United States, there are other types of cannabinoid products that are completely legal to travel with.
The Travel Safety Administration (TSA) permits hemp products that don't exceed 0.3% THC as per federal hemp laws. Check out the Hemp Collect's live resin CBD tincture and Zenbarn Farm's calm CBD tincture to stock up on for your upcoming trip.

There is a legal grey area when it comes to Delta-8 THC. While you may have taken the time to find the best Delta-8 THC products in time for the journey, Delta-8 THC products are explicitly banned and/or illegal in some areas, such as Kentucky, Alaska, Arizona, Michigan, New York, and Idaho, among others. Brush up on state law regarding Delta-8 THC so you can purchase with confidence. Additionally, research the different options available to purchase the best purity and quality.  You are permitted to carry vaping equipment in your luggage, such as an electronic vape pen and related accessories. Accordingly, we recommend any Delta-8 THC carts available from Hii Stick and YIPS THC Free CBD Softgel Capsules from Harvest Direct.
You may also want to consider traveling with a non-cannabis alternative: kratom. Kratom Gallery offers a wide variety of kratom capsules, extracts, and powders, including packs for beginners. Lastly, don't forget to download your in-flight entertainment before leaving home. We highly recommend checking out the People Are the Answer podcast featuring interviews with leaders in the cannabis industry.

Medical Card Carrier Caveat
If you are a licensed medical marijuana patient with a physician's approval, understand there are still risks when traveling with medical cannabis. According to the New York Times, medical marijuana is not legal everywhere, meaning you could be arrested and charged with possession in places that still prohibit cannabis. If you are traveling to an area with medical marijuana, local law enforcement may decide to return confiscated cannabis products once you present your medical marijuana ID card, if you're lucky. In other words, proceed with caution, and if you're looking to acquire a medical marijuana card, check out Heally's telemedicine service.
4. Find a Cannabis Tour to Book
Once you've finally made it to your travel destination, take some time to learn as much as possible about cannabis, its production, and its uses by organizing a cannabis tour at a destination.
Think of it like this: if you're planning a trip to San Francisco, you'd be foolish to miss out on a weed and wine tasting tour in the city. Making this activity a priority helps you to learn more about cannabis flowers and edibles while sampling delicious wines and local cheeses. It's a must-try experience, just like visiting the Golden Gate Bridge and taking a ride on the cable cars.
Although there's no one way to spend a cannabis-friendly vacation, you can still bank on smoking up when arriving at your final destination. Once you've done the research, planning, and initial traveling, enjoy the first toke of your time off! 
---