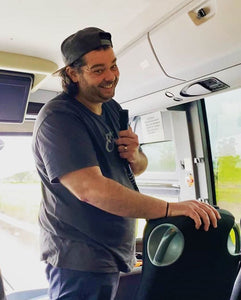 Victor Says: "Drink this while smokin' that"
Welcome to our new recurring post "Victor says," where you can read the musings and advice of the man, the myth, the legend — Emerald Farm Tours' own Victor Pinho!
In honor of launching our new San Francisco Weed and Wine Tasting Tour, where better to begin this segment than getting wine and weed pairing recommendations from the man behind the curtain? 
Without further ado, Victor says you've got to try drinking these wines while smoking these strains:
Sparkling White: Roederer Estate L'Ermitage Brut 2012 paired with Banjo
The wine: Roederer Estate wines are made with juice from just the cuvée pressing in the tradition of wines of the Champagne region. Like champagne, expect fine bubbles and a bright, texturally layered acidic mouthfeel. Aromatics of hazelnut, brioche and flint.
The weed: Banjo is a sativa-dominant hybrid that is a mix of Tangelo and Boost. Banjo has a ripe orange aroma with a hint of musky cheese and sweet pine, leading to a rich, full-bodied smoke.
Together: Oranges and bubbles with a little cheesy undertone. Effervescent deliciousness!
Aperitif: Ferreira White Port Wine paired with Ingrid
The wine: This style port is often served chilled and is generally sweeter than its red counterparts. As with all aperitifs, Ferreira Branco makes a lovely after-dinner dessert pairing, and is particularly soft and well-balanced, with a complexity added from careful aging in wood. 
The weed: Ingrid is an indica cross of Royal Cheese and Hash plant with a skunky scent and undertones of pine and earthy flavors. THC levels of Ingrid tend to be around 15% or below, making it a perfect mild high to begin an evening wind-down.
Together: It's been a long day — grab a piece of your favorite fruity dessert and get down to chilling town with this affordable pairing. 
Cabernet: Silver Oak Alexander Valley Cabernet Sauvignon 2015 with Ice Cream Cake
The wine: This gorgeous red entices you off the bat with aromatics of maraschino cherries, blackberries, clove, star anise and a hint of brisket-y meatiness. Mouthfeel is pure juiciness with notes of currant, toasted vanilla and brown sugar characterized by the American oak barrels it's aged in. 
The weed: Ice Cream Cake is an indica-dominant cross of Wedding Cake and Gelato #33. As the name suggests, the primary flavor profile runs along notes of vanilla and sugary dough. Effects of this delicious bud come on heavily and headily, so be ready to sleep well after consumption.
Together: Notoriously delectable happy-makers. Be ready to grin away and sleep like an angel.
Shiraz: Ramey Syrah 2015 with Baklava
The wine: Grown in the cool climate of the Sonoma Coast, this syrah offers complexity in aroma and flavor. A silky mouthfeel greets flavors of grapefruit and olive oil with notes of smoked meat and underlying white pepper.
The weed: Baklava is a potent hybrid that crosses Kosher Kush and Gelato 41. A sativa energy kickstarts the high followed by a full-body relaxation effect. Baklava has a very distinct fiery kick on the nose, followed by a creamy, gelato-style back end with hints of a sweet nutty mint. 
Together: This combo calls veteran smokers looking forward to a tasty palate rollercoaster ride.


Want us to take care of getting the pairings together for you? We'll see you on that new San Francisco Weed and Wine Tasting Tour. Ready to book or have any questions? Feel free to drop EFT a line at 1-866-216-9970, or send an email to booking@emeraldfarmtours.com.
---