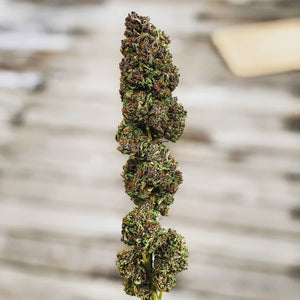 Weed Love to Thank You — 1500 Instagram Followers and Counting!
When Emerald Farm Tours took off on its first tour in 2018, we could only dream of the level of love and support we've received since. We just hit 1500 followers on Instagram! And while we think our content is pretty cool, we think the content you guys make and tag us in is maybe even cooler. 
So we tip our hats to YOU, the awesome people who make it all possible, and present you with our favorite #emeraldfarmtours posts you've tagged us in. 
Our Favorite Ambiance Shot:
@visionsof_joanna
@emeraldfarmtours in San Francisco today. We toured three beautiful cannabis retailers, shuttled in a luxury van and hung with friends new and old..I can't wait to take more friends on this tour.
@thevictorpinho - you are the host with the most! Thank you for an amazing day!!!!
#emeraldfarmtours #normalize #legalize #sanfrancisco #wildbayarea
Our Favorite Cannaseur Shoutout: 
@elisemcroberts
Highlights from the #seedtosale tour with @emeraldfarmtours 🚌🌱⚗️🛒 1. @darkheart.nursery 👉🏾 2. @jettyextracts 👉🏾 3. @harborside_stores 👉🏾 4. @emeraldfarmtours bus outside @oaksterdamuniversity 🎓 👌🏾I'm dabbing @docgreensofficial #liverosin via @puffco peak 💋💨
#cannabosslife #cannabisindustry #cannabistourism #womenofcannabis #womenofweed #norcalcannabis #bayareacannabis #oaklandcannabis #cannabiscommunity #cannabisculture #cannabislife #darkheartnursery #jettyextracts #emeraldfarmtours #docgreens #adayinthelife
Our Favorite Squad Rollout:
@nisoncopr
Serving up a heaping helping of Saturday morning SQUAD GOALS! 🌟Missing this good looking bunch a little extra today. ✌️#NisonCoFam
#cannabiscommunity #cannabisindustry #california #sanfran #sanfrancisco #californiacannabis #cbd #emeraldfarmtours #sanfrancisco #retreat #teambonding #teambuilding #team #mjbiz #PR #cannabispr #nisoncoretreat2019
Our Favorite Golden Gate Glamor Shot:
@kemeretoparty
I hopped on the opportunity to join #EmeraldFarmTours yesterday. We ventured through San Francisco checking out various recreational shops, and lounges. 10/10 would venture again. #Jetty #Extractyourself
Our Favorite Random Rare Bear Sighting:
@oknando
Bears just wanna have fun! #goldengatebridge #420 #emeraldfarmtours
Our Favorite Cannabiz Crew Pic:
@debbygoldsberry
Moe Greens!!! It matches my imagination. Mind-blowing. The @magnolia_oakland crew is on tour with @emeraldfarmtours, checking out 5 of San Francisco's legal cannabis lounges. #sanfrancisco #mmj #marijuana #cannabis #emeraldfarmtours #dispensary #smokemarijuana #vapelounge
Our Favorite Dank Photo:
@politiken_rejser
Potturismen spirer i Californien. Siden 1. januar har cannabis været lovligt i Californien, så nu kører Emerald Farm Tours rundt til en række potapoteker med (snart) skæve turister om bord. Foto: Sole Bugge Møller #emeraldfarmtours #politiken_rejser #skævturisme #california
Our Favorite Cannatour Homies Cheesing:
@mendoexperience
Chris and Misha of The Mendocino Experience Cannabis Tour have been spotted at several pot farms in Mendocino County with Victor of Emerald Farm Tours.
What's going on? 🤔 😜
www.mendoexperience.com
#mendoexperience #emeraldfarmtours #mystery #pottours #weedtour #weedtours #cannbistourism #cannabistours #surprise #marijuanaclub #marijuanatourism #marijuanatours #visitmendocino #visitcalifornia #whatsgoingon #mendocinofarms #somethingspecial #somethingsgoingon #weedlovers #weed #cannabis #pot #grass #mota #marijane #marijuanna #marijuana #dooe #smoke #justwait
Our Favorite Streetside Swag Pic:
@wizkaliko
Had such an amazing time spending the day with @emeraldfarmtours yesterday! We started at @oaksterdamuniversity and then toured three of the premier California brands on #EmeraldFarmTours "Seed to Sale" tour: 1) @dhnclones 2) @jettyextracts 3) @_harborside_ — What a unique opportunity to peak behind the curtains of some inspiring cannabis operations. Thank you so much to @thevictorpinho for having me out on this perfectly curated excursion through the Oakland cannabis scene. I highly (pun intended) recommend signing up for one of these tours! #cannabis #weed #pot #marijuana #420 #710 #cannabiscommunity #cannabisculture #cannabiscup #cannabistourism #cannabistours #weedsociety #weedstagram420 #oakland #bayarea #oaklandish
Thanks again for the tour love! Keep those #emeraldfarmtours tags coming in, and you may see your homegrown shots on a future post!
Haven't had the chance to take off with Emerald Farm Tours yet? Check out our current tour options here, and don't hesitate to contact us at 866-216-9970 or booking@emeraldfarmtours.com with any questions you may have!
---