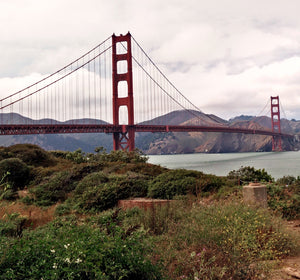 Why Take a Cannabis Tour? What You'll Learn with Emerald Farm Tours
It's no secret that cannabis tourism is taking off in states that have made the sale of recreational marijuana legal. That's what brought you here — you've been considering a little cannabis tourism of your own. But what is a cannabis tour? Why should you take one? What will you learn along the way? We at Emerald Farm Tours know you have a few questions, and would like to answer some of the big ones here. You can find more tour-specific information over on our FAQ page.
What is a cannabis tour?
If you've ever been on a wine tour, the idea of a cannabis tour shouldn't seem too foreign. If you're 21+ with a designated sober driver and no open containers in the vehicle, hopping from winery to vineyard to wine bar is perfectly legal. The same is true of cannabis tourism in California. Emerald Farm Tours will take you to dispensaries, smoking lounges, cannabis production facilities, important historic landmarks around San Francisco, and nice views while enjoying California's legal cannabis. 
Why take a cannabis tour?
Safety and Comfort: A tour is first and foremost a great way to relax and enjoy cannabis safely. The biggest asset on any top-notch tour is a veteran guide. With Emerald Farm Tours, your sober driver and guide-extraordinaire is an expert in history, law, technology, and helping you make informed decisions when it comes to dose and consumption. A safe tour can also happen in style! Our vehicles are luxuriously apportioned and decked out with great sound and video features, power outlets, and USB charging stations. Plus there are snacks and water provided for when the munchies hit en route. 
Curated Experiences: There are elements of the cannabis industry you may never see without a tour. Emerald Farm Tours is more than just dispensary-hopping, and our tour locations are selected to provide the best possible experience for our guests. Our founders and staff are cannabis industry leaders and experts in their fields, with long-standing connections and relationships throughout California. We strive to create a rich, multi-layered and fun experience for our guests while teaching about cannabis.
What will you learn along the way?
The Cannabiz Industry: Depending on your tour of choice, you'll learn firsthand about many processes of the burgeoning cannabis industry, from grow houses involved in the cultivation, processing, trimming, drying, and curing of marijuana to manufacturers who will introduce you to the latest in cannabis-inspired products, such as infused edibles and high-tech vaping devices.
The History of California Cannabis: The road to recreational cannabis in California has been paved with the work of many people, organizations and communities, and is still being laid today. Our team is comprised of highly experienced leaders actively working in and shaping the cannabis industry, and the history of cannabis is a passion and mainstay of our tours.Throughout the tour, your well-informed guide will help lead conversations in a range of diverse topics, from the politics of San Francisco in the 1960's to modern efforts of harm reduction and restorative justice. 
Local Wonders: Sometimes, we need to stop and smell the roses. Emerald Farm Tours makes it a point to include general information about cultural and historical landmarks in the region, not just those pertaining to cannabis. We also often have times of reflection and discussion while enjoying "chat zones," where we get off the tour bus and admire the beauty of the Bay Area. 
How to Consume Cannabis Safely (And Enjoy It): If nothing else, the tour is an enjoyable learning experience where you can legally toke up and roll around the region in comfort and style. This is your opportunity to ask multiple industry professionals (including your trusty guide) about practical consumption and dosing, and tell all your favorite smoking stories to a receptive group of people. So sit back, light up at designated locations, and enjoy your ride through this budding industry.

Ready to book your first tour, or have a few more questions? Drop Emerald Farm Tours a line at 1-866-216-9970, or send an email to booking@emeraldfarmtours.com.
Written by Marissa Smith of NisonCo, a top rated cannabis PR firm and marketing agency.
---