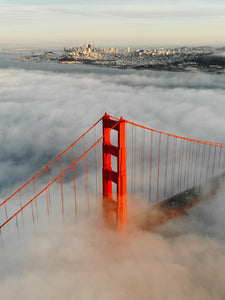 How to 4/20 Like a Pro in San Francisco
The countdown has officially begun! Today marks exactly three short months until the most widely anticipated cannabis event of the year: 4/20. Now is the time (if you haven't already) to plan your high holiday, especially if you're hoping to travel to major celebratory cities like San Francisco. We at
Emerald Farm Tours
have a thing or two to say about the best ways to celebrate this stoner-ific jubilee in the 415. So sit back, light one up, and read on for a guide to enjoying all things 4/20 in the Bay City.
The Practical Portion: Be Prepared
Comfortable walking shoes cannot be emphasized enough. Without them, you simply won't be able to enjoy all that Frisco has to offer, especially on a high-traffic holiday like 4/20.
San Francisco weather is notoriously difficult to predict, since the city consists of multiple microclimates. The April temperature range should be fairly consistent — between 50-63 degrees Fahrenheit on average — but rain-proof jackets and boots are just-in-case musts. Make sure you can walk awhile in those boots, too!
If you are travelling independently without a tour, also be prepared to spend a good amount of time waiting. Why? In the words of EFT founder Victor Pinho, "If you're willing to stack up against the lines, it's the day to get huge deals!" Continue reading below to find out how to avoid waiting in lines and still land the best possible bargains.
1) Walk the Walk — Take a Tour
Why go through the trouble of reading hours of dispensary and consumption lounge reviews online when tour companies like EFT have done the work for you? If you want 4/20 to be comfortable and fun, put that planning into the hands of experts. There are even tours with different focuses and different time commitments, to fit every experience. We're especially excited about these events:
Try to keep up with the nation's top pot critic as you travel the hills of San Francisco in search of the city's best marijuana in celebration of California's biggest 4/20 yet! Judge the samples at every dispensary lounge stop and cast your vote to crown SF's best weed. Explore your way to the final destination — Golden Gate Park's Hippie Hill — for a celebratory 4:20 puff. 
For the Extra-VIP Toker

:

SF Weed Tour and Smokeout Celebration 
Every Emerald Farm Tour has the perks outlined below, but this special 4/20 edition of our signature Cannabis-Infused City Cruise™ goes above and beyond. We're talking party limo, cut-the-line access to all our partner dispensary lounges on the busiest day in the weed industry, and dank swag bags featuring the EVRI™ by Dip Devices (cannabis oil vaporizer). This tour also ends with a 4:20 light-up at Golden Gate Park's Hippie Hill.
For the Sage Stoner:

SF Cannabis Crawl & Dispensary Tour — Walking Weed Tour
Coming in at $49/person, our walking tours are the most economical option, and a great way to see the city of San Francisco in all of it's 4/20 glory. An easy-paced mile is covered over the course of three hours, during which your experienced tour guide will conduct your journey through dispensaries and consumption lounges where you'll have exclusive discounts and opportunities to cut lines available.
2) Shop the Shop — Score those Deals
For the last few years, April 20 has marked the
biggest shopping holiday
for the legal cannabis market, and with good reason — There are some great deals to be snatched up! To have your best shot at scoring big on low prices, be sure to pair up with a tour like EFT that gets you exclusive deals and line-cutting perks. 
3) 
Smoke the Smoke — Celebrate
Of course there's the 4/20 4:20 smokeout at Hippie Hill that's not to be missed, but there are plenty of other opportunities to get your high holiday celebration on. For example, peek this stacked food/music/art event compilation from last year, and you'll soon be simultaneously fired up and salivating. To make sure you don't make any rookie mistakes while smoking the good smoke, be sure to brush up on California consumption laws before heading to the City by the Bay.
The Final Recommendation: Come Chill with Emerald Farm Tours this 4/20
As mentioned above, at EFT we'll help you cut lines, score great discounts and get in on the action in San Francisco for 4/20 — but the biggest asset on any top-notch tour is a veteran guide. With Emerald Farm Tours, your sober driver and guide-extraordinaire is an expert in history, law, technology, and helping you make informed decisions when it comes to dose and consumption. The small size of our tours and our attention to detail allow us to focus on crafting a personalized, memorable and truly enjoyable experience. 
In summary, come hang with us on one of our favorite holidaze of the year. Bookings fill quickly — we hope to hear from you soon!
Check out our blog post Why Take a Cannabis Tour? What You'll Learn with Emerald Farm Tours and our FAQ page for more general information about taking a tour with us.

Ready to book your first tour, or have a few more questions? Feel free to drop EFT a line at 1-866-216-9970, or send an email to booking@emeraldfarmtours.com.
---