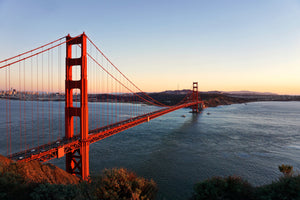 8 High-Quality Tourist Spots You Need to Visit in San Francisco
At EFT, we ride for our city and want everyone to come and see it! We know we talk up the Bay an awful lot, but it's such a beautiful place… how could we not? If we haven't convinced you to come through yet, we created this list-- chock full of our favorite tourist spots-- that may or may not also be perfect for testing out fresh greens found along the cannabis trail. 
Fisherman's Wharf
One of the biggest tourist destinations in San Francisco, the Fisherman's Wharf is the spot to see. Not only is it the meeting place of our Cannabis Infused City Cruise, the Wharf is jam packed with things to do and honestly gives off a county fair vibe. From food stands, to games, to seeing the sea lions at Pier 39, we highly recommend stopping off your own SF tour here.
Golden Gate Park
We mentioned this as a whole reason to take your cannabis tour in the Bay, but Golden Gate Park is chock full of magnificence. The park is home to historic Hippie Hill, which is a high-quality place to roll up. It's also smack dab in the middle of the city, but feels like its own oasis with the likes of San Francisco Botanic Gardens, Queen Wilhelmina Tulip Garden, the de Young fine arts museum and sculpture garden, and the Japanese Tea Garden.
Twin Peaks
We've kind of been in a nature-mood today so we thought Twin Peaks would be a great addition to this list. Twin Peaks are two beautiful hills in the middle of San Francisco. They're super dope and get this-- on the western side, the hills face fog and conditions are usually cooler, and on the eastern side, the hills get abundant sunshine and it's generally warmer! What's extra neat is the undeveloped nature of the hills. They offer fabulous views, opportunities to chill, and awesome hiking trails. Did we mention they're one of the few gathering spots for the endangered Mission blue butterfly? They know what's up. Channel the butterfly within you and please hit up Twin Peaks.
Ghirardelli Square
Yes, we seriously did include an up-close shot of an actual Ghirardelli Square for this one. Just a short walk from the Fisherman's Wharf lies Ghirardelli Square. We love all of the great munchie--- we mean, chocolate and ice cream options. Okay, fine. Having healthy treats to munch on while baked is great, but we're all about moderation; if you're looking for a sweet treat amongst the city, you'll find it here.
Golden Gate National Recreation Area
Another chill place to check out is Golden Gate National Rec Area. We thought about recommending the Golden Gate itself as a destination, but you can ride it on the way over here. Golden Gate Rec Area has spots to camp out, go fishing, have a beach fire, take a hike, a bike ride, (a horse ride!) or just veg out. Pairs well as a post cannabis tour spot, if we're just being honest.
Muir Woods
While you're across the Bay, find yourself immersed in the trees at Muir Woods. The woods are a great place to "get lost" and chill with friends, and a super high tier spot to let that creative mind of yours flow, imagining what the Bay area looked like before all of the people settled in. Forget the noise of the city for a while and just be with your pals, shootin' the breeze in the trees.
Chinatown
In the heart of the 415 lies Chinatown. If you have to go anywhere while you're in SF, please check out Chinatown. The enclave has retained customs, traditions, and authenticity throughout the years, no matter the changes occurring outside of it. Check it out, buy some food, drink some tea, and support the local economy of some of the neatest sites the city has to offer.
Cable Cars
We hope we were able to give you some great recs to visit on your trip out to smoke up with us, but we wanted to leave you moved by this one. Ha. Ha. Get it? Anyway, the cable cars of San Francisco are literally moving historical landmarks. These bad boys are the last manually operated cable cars in the country, and this is a transportation destination like no other. The cars offer the dopest views of the city, the feel of the landscape, and a chance to really take you back in time. 
If you're coming into the City from the South, we recommend pre-ordering from our friends at Synchronicity Holistic Cannabis Dispensary in beautiful Carmel, CA. 
Check out Emerald Farm Tours' website for more great ideas on why you should book your next trip here. We hope to see you soon!
---