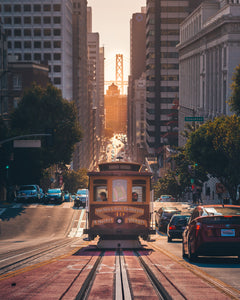 The Next Big Thing in Cannabis: Tourism & Hospitality
It's cannabis tourism season, baby. 
Born and raised in the Bay, we at Emerald Farm Tours embrace the nature of being trendsetters. So of course, we know that cannabis tourism and hospitality are The Next Big Thing. The hospitality industry and cannabis are coming together in a big way as more cities and states around the country gear up to vote on legalization. Entrepreneurs -- much like ourselves -- are inspired by the ever-increasing opportunities to cater to our cannabis-enthused guests, and we are all in to get creative and make this industry thrive.
Quite simply, people can't keep cannabis out of their mouths -- whether it be from consumption or because it's
the
topic of discussion. Emerald Farm Tours is lucky enough to be surrounded in an environment where social cannabis consumption has made a name for itself. We've been granted the ability to get our creative juices flowing and play with cannabis tourism, turning it into something extraordinary. Cannabis tourism gets us and our guests access to some of the chillest vibes in the city. We get to meet new faces, whether it be in the dispensary, at a cultivation hub, or up on Hippie Hill
at the peak of 4/20
. Now that cannabis tourism is on the up and up, we're excited to envision its future. So, what's next?
Taking it to the next level. 
Cannabis hospitality has a proven ability to get you sky high at every step of the way. The realm of possibilities is so great, and with a nice bowl we have the opportunity to delve even deeper. Yep. With cannabis hospitality, the reality of an entirely cannabis-infused vacation is possible. Let's take you on that journey, shall we? 
Imagine touching down in the Bay and checking in to your cannabis-friendly hotel. You open up the door to your room and on the table lie complimentary pre-rolls. The next morning, you end up at a cannabis-infused coffee shop. Don't tell me you've never taken morning toke with a cup of coffee! This combo is the way to start the day. No judgement if not! 
After that, you head on over to Emerald Farm Tours. With the abundance of spots, the tour options could be endless. Of course, there would be the bread and butter, tours of high-quality dispensaries, consumption lounges, and cultivation centers -- but we could take it even further, much like we have at our Weed & Wine Tour. Essentially, cannabis tourism ups the ante and brings to life a host of opportunities. As the hospitality industry incorporates more options, your experience can become even more diversified.
The party keeps rolling. 
Let's be real, the highlight of the trip's gonna be kicking it with us. But, that doesn't mean the party stops cold turkey. Why not keep it rolling? Cannabis tourism and hospitality goes so much deeper, and we're fans of a good complementary activity. There are so many other beautiful ways to enjoy your cannabis in ways that pair so well with our tours. With options like CBD-infused massages, puff and paint classes, or taking a hike in the hills of SF, incorporating cannabis into your next trip has never been so easy. 
We may be biased. But cannabis hospitality is on the rise, and we are nothing short of thrilled. We're pumped for our customers to explore cannabis friendly hospitality, and for ourselves to build these increasing opportunities into our own tours. We love building connections and cannabis tourism and hospitality allows us to connect up close with cannabis enthusiasts as well as lets us explore our own passion for cannabis. Because on the real…. we love weed. So, I guess there's only one question left to ask: when are you planning your trip? 
---