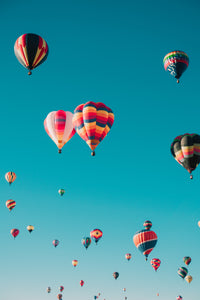 Did Someone Say, "Relaunch?"
Hey there, Emerald Farm Tours Fam! 
We don't know about you, but the last two months have been a weird and wild time for our crew, while also being surprisingly grounding. For EFT founder Victor Pinho, that has meant finding peace and purpose via gardening and keeping an apiary of backyard bees. We hope you, likewise, have found this time to be beneficial for personal growth and reflection as the world slows down. 
The people of EFT are safe and healthy, and we sincerely hope your people are, too. While we certainly didn't anticipate a global pandemic, we do anticipate an EFT comeback of epic proportions. Here's what we know so far, and how you can stay in the loop moving forward.
Who?
Tour booking will be open for private groups of 6 or fewer guests. We ask that those booking tours at this time are generally folks who have been hunkering down with one another, without many people coming from different places. Our new tour size appeals perfectly to roommates, families and coworkers, while ensuring the safety of both the tour guide and participants.
What?
It's a relaunch! Specifically, one with smaller tour sizes and COVID-19-specific safety measures in place. Our transportation partners have been extremely proactive and supportive in preparing for our relaunch. All tour vehicles will undergo a thorough cleaning process and all surfaces will be disinfected prior to boarding any guests. Our drivers will continuously wipe down interior vehicle surfaces with disinfectant solutions between every tour stop.  EFT will do everything in our power to ensure our guests are healthy, happy and safe throughout their entire tour experience. We have always been dedicated to safety and harm reduction, and are happy to be able to renew that commitment to our guests again now.
When?
Ideally, we'll be hitting the pavement again the first weekend in June — California guidelines permitting. EFT will be very flexible for initial bookings, as future state guidelines are a current unknown. It's likely at the time businesses do open that common-sense measures such as wearing face masks in public will still be recommended. In accordance, until further notice EFT has a BYOFM policy for tours — Bring Your Own Face Mask, that is.
Where?
With any luck, it won't be long before all facets of the California cannabis and cannatourism industry are up and running, allowing EFT to take you to all our favorite haunts. It may be that some locations such as smoking lounges have to change their practices or limit entry to safely operate in the coming weeks. We'll continue to update our tour options accordingly, ensuring no matter where we go together, you'll have just as much fun as ever with Emerald Farm Tours. In the coming days we will launch ticketing for a new, single-booking (re: private) weekend overnight tour deep into Mendocino County, the heart of the Emerald Triangle.
Why?
Have you even heard of fun? By the time EFT relaunches and coronavirus settles, you'll be more than ready to take a deep toke (without puff-puff-passing anymore), settle into your luxury transportation and be shown the world of California cannabis — safely. Also think about how your patronage helps the recovery of family farmers and local businesses in the wake of the virus. And, did we mention fun?
How?
Stay tuned through any or all of the following EFT communication channels, and be on the lookout for upcoming exclusive deals and discounts for our awesome customers! If you're the slow burn type, check out the longer reads on our blog and subscribe to our newsletter at the bottom of our home page. If you're more into quick hits, find our social media updates on Facebook, Twitter, Instagram and YouTube. 
If you have any questions, are ready to book a tour or just want to say hey, don't hesitate to drop EFT a line at 1-866-216-9970, or send an email to booking@emeraldfarmtours.com.
Stay healthy out there friends, and we'll see you very soon!
---