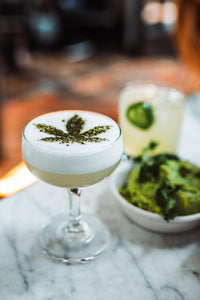 4 Ways to Say Thank You to Your Parents with Cannabis Year-Round
Finding the right gift can be challenging, especially if you've never considered yourself an exceptional gift-giver. This task can get even more complicated when the gift is for your
stoner parents
.
Whether your parents are true cannasseurs or just canna-curious and into exploring what's out there, you'll find something for everyone in this article. Some ideas are more experience-focused, while others are practical or luxurious. 
For instance, CBD bath bombs will allow your folks to relax and unwind after a long and hectic day at work. You can also try introducing them to vape pods like those from vapekit.co.uk and organize a family movie night or get some delicious edibles like gummies, brownies, or even macaroons. What about getting together to cook a delicious family dinner using wholesale hemp flower that can be added to virtually any dish? 
Continue reading below to learn three exciting and creative cannabis gift ideas for your parents. Need a last-minute gift or can't leave the house? Forgot their anniversary? Consider getting delivery fast from your favorite locally owned cannabis delivery company.
1. Vape and Watch Your Favorite Stoner Flicks Together
In 2018, a study revealed vaping cannabis could take family TV time to an entirely new level of fun. So why not surprise your parents by organizing a movie night and making it even more enjoyable with the help of vape pens?
Vaping cannabis is a healthier alternative to combustion; however, it's always good to warn Ma and Pa they shouldn't overdo it. Low and slow is the way to go.
To make their experience with vaping as pleasant as possible, consider vape pens or pods, which are incredibly easy to use and free of complex technicalities that may be challenging to inexperienced vapers. You can also read a pod vape kit buying guide to ensure you get the right equipment. Amass delicious food, prepare the vapes, and put on one of the best movies to watch when the cannabis kicks in!
2. Gift Mom and Dad Relaxing CBD Bath Products
CBD can help relieve pain, inflammation, or anxiety. Find this healing cannabinoid in bath bombs, body washes, and bath oils. Seek out high-quality products made with clean and natural ingredients, as they will be a perfect gift for your busy parents.
Soaking in a tub filled with warm water is excellent on its own, but infusing it with CBD bath products can provide a whole new experience. Remember that the perfect temperature for a bath is between 90°F and 105°F. Fill the bathtub with warm water, add a bath pillow for some neck support, drop in a CBD bath bomb and set the rest of the toiletries within a hand's reach. 
Additionally, you can get a wooden bathtub tray and use it to hold an odor-mitigating candle so the old man and lady can toke up, alongside a glass of wine and a good book. Post-bath, have a luxurious and efficacious full-spectrum balm or lotion awaiting them, so the relaxation continues. 
3. Add Hemp Flowers to the Family Dinner
Cooking together as a family creates closer bonds and helps build lifelong memories. When everyone is involved in making dinner, you can also improve your teamwork and communication skills and use this time to talk about your day, listen, and share.
Did you know you can enhance the dinner time by preparing a side of hemp flowers? They are perfectly edible and can be incredibly tasty when cooked in oil or butter. The cannabinoids in flowers are activated only when exposed to heat, so keep in mind that eating them raw might not be the best idea. When eaten raw, it will taste weird and won't give you the desired relaxing effects, so make sure to let the hemp nugs simmer in butter on low heat for a few minutes.
Thanks to the trace amount of THC in the flowers, it is possible to feel a mild high after consuming them with the rest of your dinner. Alternatively, you can brew some hemp flower tea by placing the nugs into a tea infuser, pouring in the desired amount of hot water, and letting them brew for 3-5 minutes, depending on how strong you want the tea to be. 
4. Satisfy Your Folks' Sweet Tooth with Edibles
No matter the occasion, sweets are often the perfect gift. If you want to give your parents something more unique and personalized than just another generic box of store-bought chocolates, you can opt for cannabis-infused sweets. It might take about 30 minutes to work their magic, but edibles are perfect for a long-lasting and relaxing experience.
If you trust your baking skills, you can prepare some homemade goods by adding ingredients such as cannabutter to your brownie or muffin batter. A few drops of potent CBD oil will also work great when added to icing, but be careful not to add too much, as it might turn out too runny.
If you're not a top-notch baker, there are many high-quality sweets you can buy online. A simple Google search will provide endless results on cannabis cookies in decorative jars or even French macaroons infused with CBD. Many kinds of CBD gummies come in various flavors, drinks, hard candies, or gourmet chocolate bars. 
Mom and Dad Deserve Dankness
As you can see, there are many ways to express your gratitude and show your parents how much you appreciate everything they do for you, and gifting them some cannabis-infused products can be an excellent idea. Whether they've been taking advantage of its benefits for a while or are simply canna-curious and
into exploring
, introducing them to different products may result in some great and fun family time.
---