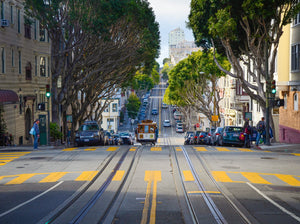 All Aboard the Weed and Wine Tasting Tour!
You may have noticed the San Francisco area has some dank offerings. 
The City by the Bay is lovingly situated near the famous wine-producing Napa and Sonoma Valleys, as well as tantalizingly close to the Emerald Triangle. Don't know what the Emerald Triangle is? Check out our previous post A Brief History of California's Legendary Emerald Triangle. That leaves you, my friend, in an opportune situation — with the help of Emerald Farm Tours — to get the most delectable whites, reds, and greens on our new San Francisco Weed and Wine Tasting Tour.
Emerald Farm Tours offers full-day excursions like our Seed-to-Sale Tour™ and Jimi Devine's 4/20 Cup Crawl, but the Weed and Wine Tour is perfect for those hoping to get the most flavorsome of the region on a 3-hour time frame. 
Here's the rundown:
The tour leaves from historic Fisherman's Wharf at 10:30. You'll be riding in style with a sober driver in one of our luxury vehicles, decked out with great sound features, power outlets, and USB charging stations.
 First stop is the Moe Greens dispensary and consumption lounge — a unique and classy San Francisco original. There you'll have the opportunity to smoke, vape, consume or dab away, all while having access to some of the most knowledgeable budtenders in the city. If you're not sure where to begin have no fear — we've worked with Moe Greens to make a specially curated tasting menu just for EFT visitors. The lounge also offers cannabis-infused wine and beer, and as with all of our tours, we've lined up homie discounts just for our guests on all lounge and dispensary purchases.
 Once you're feeling mellow, we'll continue the adventure to another Golden City standard — The Winery SF. Here, you'll be able to let your munchies monster loose on delectable cheese and wine pairings expertly curated by the house sommelier, all while enjoying iconic views over San Francisco Bay.
A great thing about this tour is it can be your warmup to a heady day in Fog City, as you'll be safely returned back to your pickup location in iconic Fisherman's Wharf by 1:30. This leaves you plenty of time to continue onward to other adventures!
 If wine isn't your bag, check out one of our other short tours, like the tres-affordable SF Cannabis Crawl & Dispensary Walking Tour or luxury limo Cannabis-Infused City Cruise™. Going to be in the city for the highest day of the year? Check out our special 4/20 tour offerings here!
Still think taking a cannabis tour sounds a little funky? Check out our previous posts, Why Take a Cannabis Tour? What You'll Learn with Emerald Farm Tours and 7 Reasons to Take a Cannabis Tour in the Bay Area. If you have any questions or are ready to book your first tour, don't hesitate to drop EFT a line at 1-866-216-9970, or send an email to booking@emeraldfarmtours.com. 
---