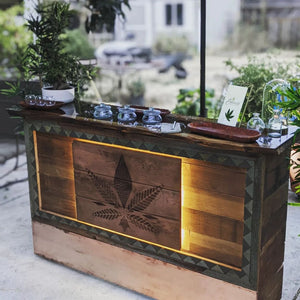 The Perfect Weed Wedding Event Needs Cannabis Bar Services
The cannabis industry has exploded in recent years. As more and more states legalize adult-use cannabis, new trends are emerging in every industry sector. Cannabis has even found a surprising niche in the wedding industry as more couples opt for a cannabis bar instead of or alongside the standard bar service. Whether you're newly engaged, looking for 420 wedding ideas, or just wondering what a weed bar is, Emerald Farm Tours is here to help. Read on for more information about our brand-new cannabis bar service.
Are you still planning pre-wedding events? See why you should take your bachelor or bachelorette party on a cannabis tour here. 
What is a Dab Bar, a Weed Bar or a Mobile Budtender?
Sometimes called a "weed bar" or a "mobile budtender," dab bars are similar to traditional bars, though they offer cannabis instead of alcohol. As statistics from www.zealousadvocate.com illustrate, alcohol-impaired driving is still one of the most dangerous safety issues on U.S. roads. 

Mobile cannabis bars provide a wide variety of cannabis products curated for your event. Cannabis bar services will come to you and your event. Cannabis bars for weddings usually provide low- and high-dose options to cater to every attendee, so your college buddies can smoke a joint while your grandma sips on a cannabis-infused cocktail. Many cannabis bars even offer non-intoxicating CBD options to help soothe wedding-day jitters. 
A professionally-trained budtender works at every mobile weed bar. Their job is to ensure everyone has a positive cannabis experience, guiding guests to the best option for their goals and tolerance. They will personally serve each guest who visits the cannabis bar and those hitting the regular bar to ensure a positive experience for everyone involved.


What Kinds of Events are Mobile Budtenders Good For?
Mobile budtending is the perfect addition to any event, from weddings to birthdays and everything in between. 
Mobile weed bars can cater nearly any kind of event in California, depending on the venue's rules. You'll want to consider a few things when booking a cannabis bar for your next big event. 
Individuals must be 21 or older to enjoy adult-use cannabis. That doesn't mean everyone at your event will need to be of age; our professional budtenders always check IDs. It's best to ensure that most of your guests can partake if they want to, just like with an open bar or when considering guests' dietary needs for the dinner menu. 
Our experienced budtenders are friendly and approachable, so even individuals without much cannabis experience can feel comfortable consuming. However, it's still important to consider your guests' attitudes toward cannabis. It's best to ensure most of your guests will be open to the experience to get the most out of your cannabis bar reservation. 
Can You Have a Weed Bar at a Wedding?
Absolutely! Weddings (or weedings, if you will) are some of our favorite events to cater here at Emerald Farm Tours.
Emerald Farm Tours' cannabis bar services can elevate any wedding, from small backyard ceremonies to all-night black-tie receptions. Whether you're planning something casual, formal, or something in between, our mobile budtenders will provide a sophisticated cannabis experience for you and your guests to enjoy. 
Open bars have become the norm for many weddings — why not a cannabis bar? You don't need much experience with cannabis to know that the plant often facilitates warm and fuzzy feelings. With a cannabis bar service, you can bring this experience to your wedding guests and simultaneously celebrate the love you share with your partner. 
What Kind of Mobile Budtending for Weddings does Emerald Farm Tours Offer?
Emerald Farm Tours offers sophisticated, high-end budtending services for various occasions. Our professional budtenders specialize in -sourced cannabis products from the best growers and manufacturers in the Golden State. 
We know that your wedding day is incredibly important, so we love being able to fit our services into your reception seamlessly. The team at Emerald Farm Tours will help personalize your cannabis menu to suit your needs and personal tastes, and we will coordinate with you to ensure our weed bar cart blends with your vision for your special day. 
How Can I Book a Wedding Weed Bar?
Emerald Farm Tours is excited to offer cannabis bar services to events of all kinds — including weddings — across California. Contact us today to learn more about our prices, services, and availability. We can't wait to help you say, "I do!"
---